Well I is back from the land of the free, home of the brave, country of the fat, continent of the incompetent! And it was faarkin awesome.
The holiday was sick, I'd recommend San Diego to anyone. Sunny all year round (well most of it!) and plenty of stuff to do and see. If you wanna see some of my tourist snaps
check here
. Peek also took a
bunch too
.
Peek was also lovely enough to grant me a days skate trip so I wasn't going to pass that up! I hooked up with a SD local Riik (Or Satyriikcon on the
OMA forum
) who is, as they say down that way, "Totally awesome". Big thanks to this man who not only drove me around all day but also bought me a pint, how can you beat that?!! Cheers manwithnonickname ;)
So skating - Riik had a plan of attack so after coffee and Bagles we jumped in his wobbly Honda and headed for Carlsbad. This is a sick little park, some wierd trannys and kinks here and there, but as a "first spot of the day" spot you couldn't fault it. Fun times. It also had a resident tweaker who we think was called "
Spidey
", he told us he'd given up the drugs but I wasn't convinced. Still any dude who rocks a full length mac, ski goggles (with tags still on) and one glove whilst spouting random lyrics will always make for a fun time!
After C-baaaad Riik had a small surprise for me - a stop off at Matt Hensley's (Me and GinnerDave's mate)
new bar
. Sick place, good beer (even at 11am) and loads to check out - Like the boards on the roof
Riik liked
, and..er..
other things
....
This pitstop was followed by a jaunt down the
coast highway
, beaches and surf for miles! Then a quick stop at
McGills
skateshop, rad shop tho he wasn't there so I couldn't ask him Bones Brigade questions like what undercrackers Tony wears and did Cab ever give him the nod.
We moved on back to SD and onto
Washington St
. I'd been dreaming of this place for ages and FUCK ME SIDEWAYS is it gnarly. Pants shittingly gnarly. When everyone says that anything done here is sick they ain't lying. Serious, serious business. Just check the pics, especially the fucked up parking block coping. The locals didn't mind tho, so while I sucked
pumping around the bottom
they tore it up. I even saw Mumford there. Bonus. We hit here for a little while then hunger struck so we popped to an "English Pub" for lunch. All the way to California to eat curry sauce and chips and have a pint of Bass. Safe as fuck.
Final stop was Memorial skatepark, this place was sick - super smooth, good coping, fun trannys and the vibe was a bit more mellow here, hell people even talked to me and they weren't on crack like Spidey! I skated too much and didn't get any shots of the place but Riik got a few "
action
"
snaps
on his cam so cheers for that. Had a rad skate here despite this being the only place I had to wear a helmet, the locals were sound so I gave em a few copies of the 'Tash to say thanks. The day was done then so I illegally drank my beer from a coffee cup as Riik took me home to Pacific Beach.
As for Pacific Beach - well that place is rad, lots of bums loitering but they ain't no trouble. There seems to be surf everyday and the beach is so long it don't really get too crowded. On the morning we went to Seaworld it was going off so I tried my hand at some surf pics, scope em below.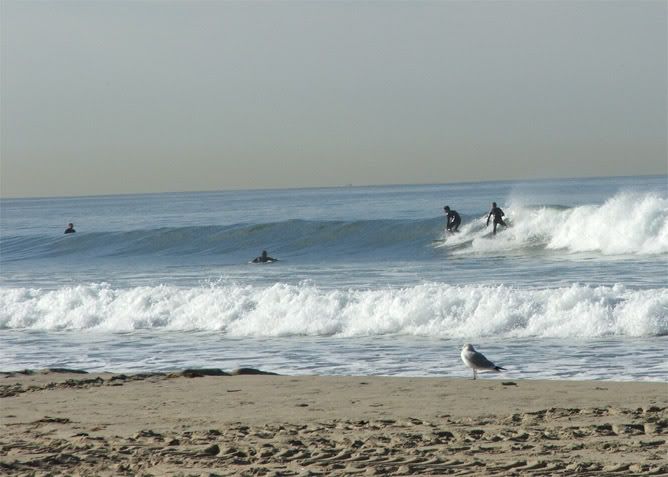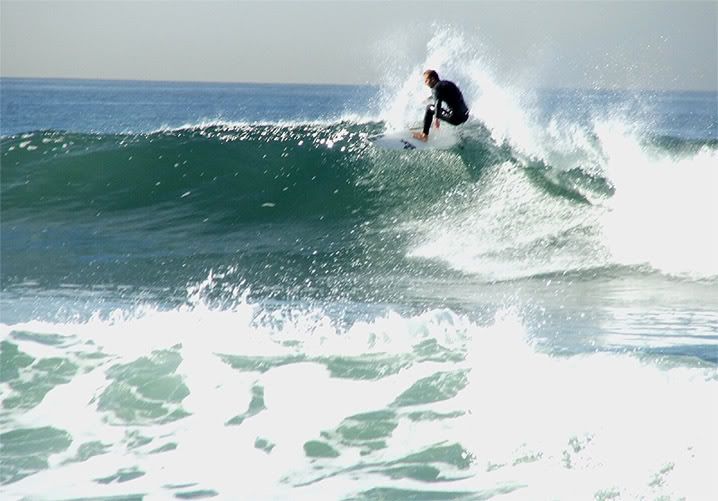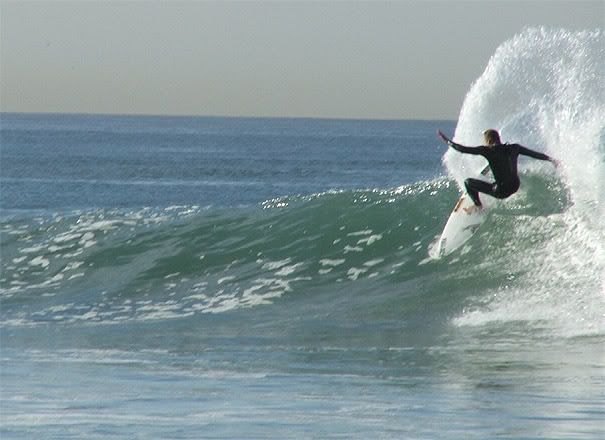 And that was that. SD as I've said is sick. Visit, skate, eat and drink. I'm already planning next years visit! A big cheers and beers to Riik for being super nice and lsitening to me waffling on all day, farkin top man.
EXTRA BONUS LOAD-A-POOOP!
I managed to get a little bit of footage before me camera battery ran out, and some on my digital cam (But no sound), so you can see me sucking at Washington St in it's full glory below. Awesome.